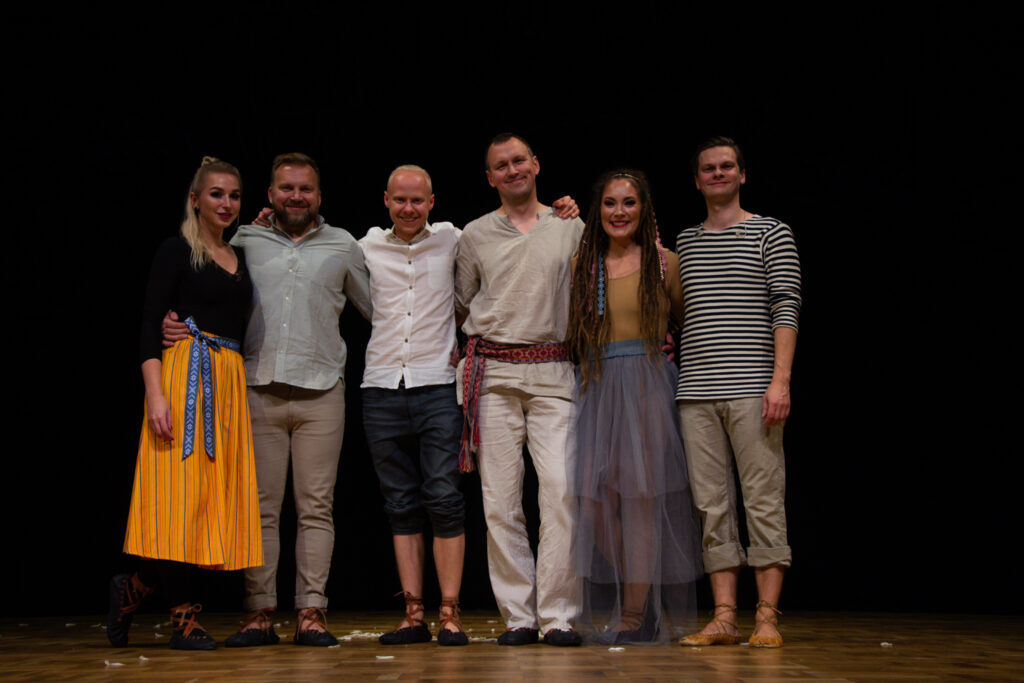 The ensemble Antsud started in October 2014, when musicians from different backgrounds came together. The ensemble cultivates music that combines folk, rock as well as its own original music. The project, which was initially created experimentally, has grown into an active team that has performed at several festivals all over Estonia. In January 2016, the first album "Between Night and Day" was released.
ANTSUD are:
Aile Alveus-Krautmann
Siim Koppel
Hedwig Allika
Karl Taklaja
Andri Laidre
Tarmo Mäll.
"The Lightness of Gold"
Duo Ruut (Duo Square) is an intersection between two friends, but musicians of a fairly different background and taste. After getting new inspiration from the folklore of their ancestors, in 2017, Katariina Kivi and Ann-Lisett Rebane found themselves sitting together, holding one Estonian zither. On one hand, it was merely a concurrence of several circumstances, but on the other hand, it was a result of a long time of experimentation and academic study. The new instrument was a fresh start for the duo, as it offered many options to invent and master new techniques. Composing on one instrument sets very narrow limits, so it became the main challenge for Duo Ruut to let their imagination out of the box and pack their music full of new and exciting ideas.
In December 2019 Duo Ruut released their debut album "Tuule sõnad" which was awarded as the Debut Album of the Year by Estonian Ethno Music Awards 2020. The same album was nominated for the Debut Album of the Year and Ethno/Folk Album of the Year by Estonian Music Awards 2021.
In a short period of time Duo Ruut has already travelled around the world, including a tour in Japan or performance at prestigious Celtic Connections in Glasgow.
Listen the album here: http://bit.ly/tuulesonad
Youtube: https://www.youtube.com/channel/UCcdwLMPsaU2ezNSJU1nFoBQ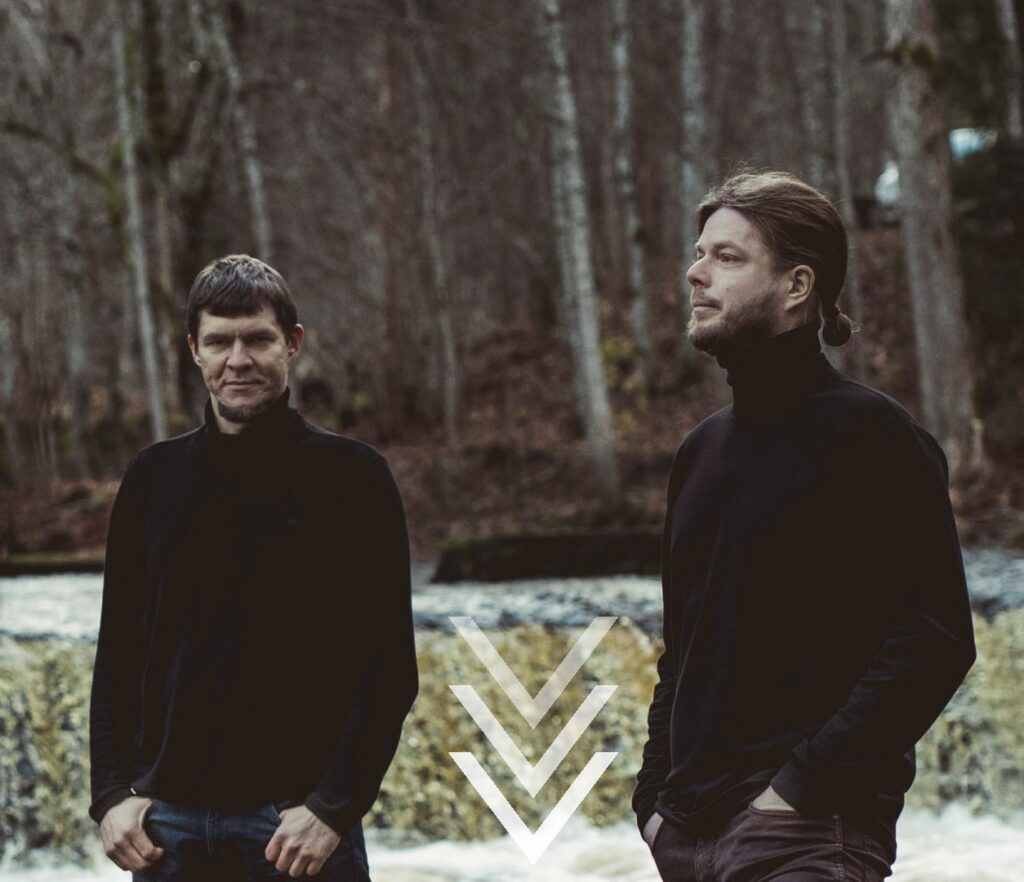 RIFFARRICA (formerly known as Duo Malva & Priks) started in 2016. Kulno Malva and Kristjan Priks, both experienced folk musicians, joined forces to make vigorous and masculine folk music, drawing inspiration from centuries-old folktale songs. The combination of Kulno's raspy vocals, dynamic accordion grooves and the sound of Kristjan's distinctive drum set gave birth to a fresh and exciting sound –
"Folk with muscle", as Baltic Music News so accurately named it. In March 2019, Riffarrica released their album "Riffarrica".
In 2017, Duo Malva & Priks released an EP "Mässiv"
"Accordion, vocals and percussion create a sound that you'd never associate with just two musicians – with a little help from some electronic gadgets, the accordion starts to screech like a hard rock guitar or obtains a tonal ambience as rich as that of a grand piano. It helps to emphasise the strong groove which is an unmistakable trademark of the duo."


Dani Heyvaert, Rootstime
Curly Strings is an acoustic four-piece band that draws its inspiration from their own personal heritage in the current Estonian cultural space. Intense and playful ensemble work paired with a sincere presentation of their original music forms the main basis of Curly Strings' soundscape.
The band's rise in the Estonian music scene in 2013 was a phenomenon unlike any other: a folk music artist became mainstream by collecting national music awards and being the top seller in music stores for more than a year. They bring their unique Baltic take to the acoustic music world in combining the familiar with the unfamiliar, having catchy heartfelt songwriting side-by-side with folk music aesthetics, making them an exciting act to look out for.
Eeva Talsi – fiddle, lead vocals
Taavet Niller – upright bass, vocals
Jaan Jaago – guitar, vocals
Villu Talsi – mandolin, vocals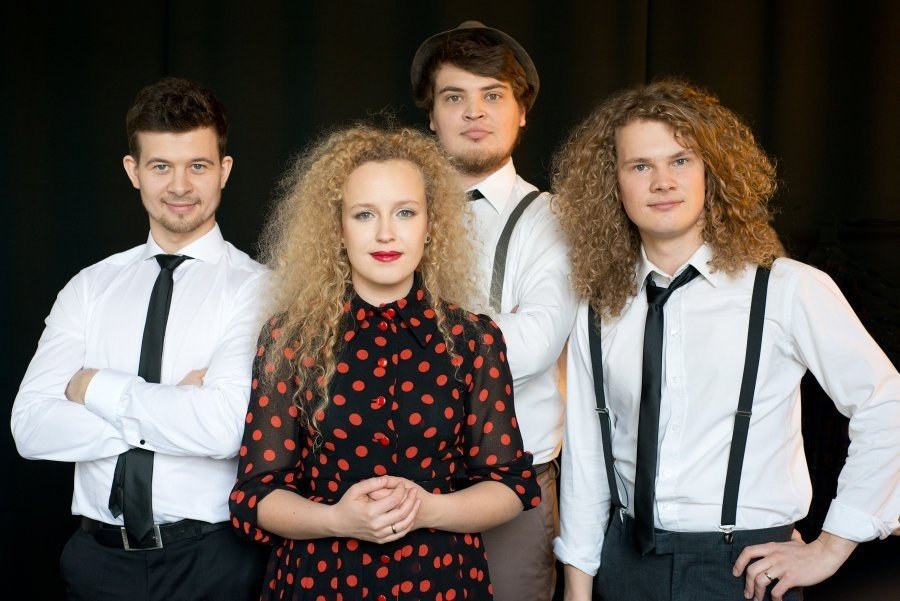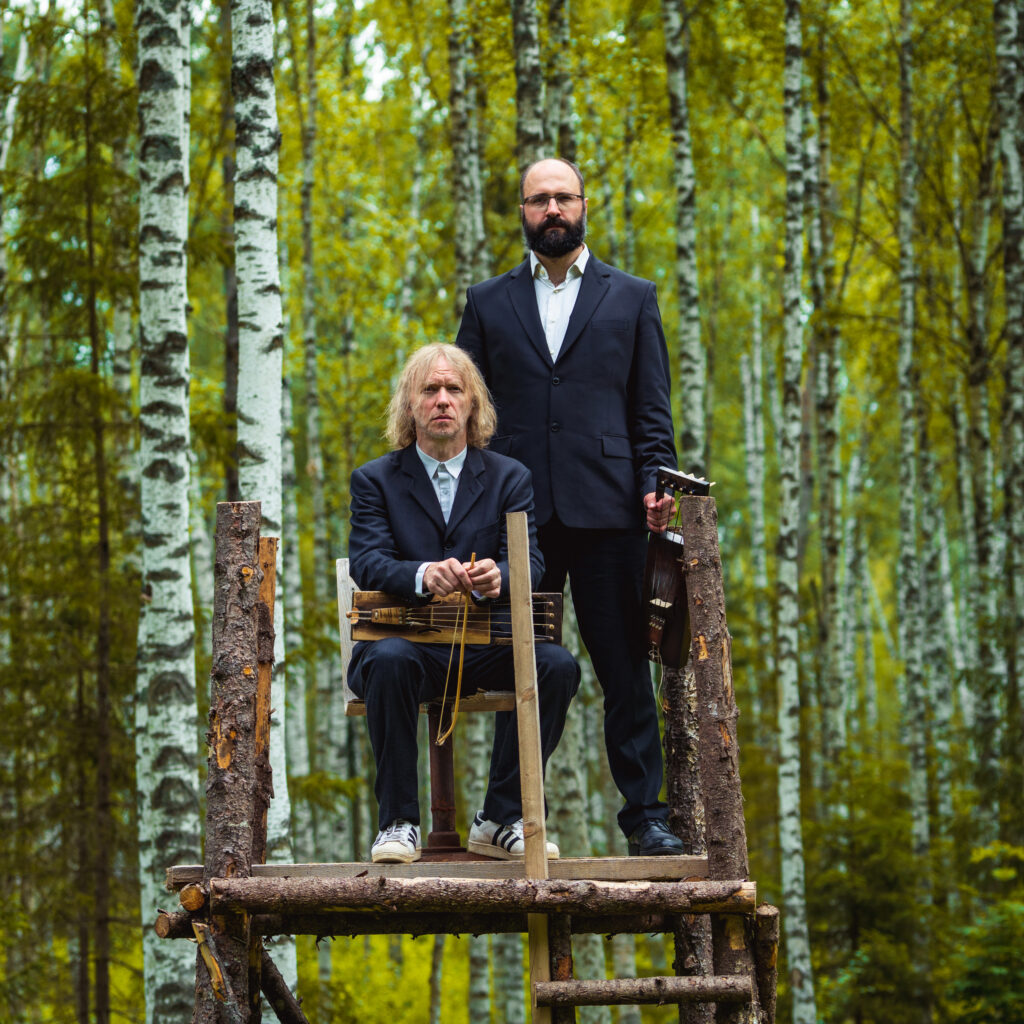 Puuluup is a duo – Ramo Teder (Pastacas as a solo artist) and Marko Veisson. Their first album "Süüta mu lumi" (Light my snow) released 01.05.2018 by Õunaviks.
A pinch of surrealism, modern folklore and talharpa revival! The old and the new stick together like water and sleet in Puuluup's oeuvre. The instruments – talharpas – represent tradition and folklore. The characteristically susurrus sounds of these instruments are sent through effect blocks and a looper. The lyrics and melodies are a mixture of our musical memories and improvisation. Inspiration is often drawn from leiks from Vormsi, Finnish jouhikko repertoire, Sahel's blues, chastushkas and other elements from the musical traditions from around the world. All kinds of random sources of inspiration are similarly important – unexpected excerpts from Polish TV series, old Estonian punk and sweetbread from Vormsi Island. As a side dish, when giving live concerts they also offer choreographic flittering which emerged on its own during the numerous days these two man spent in the rehearsal rooms.
Kadri Voorand – alto
Mikk Dede – tenor
Mirjam Dede – soprano
Maria Väli – soprano
Rasmus Erismaa – baritone
Aare Külama – bass
Award-winning Estonian Voices are an a cappella vocal sextet that like to mix it up. Jazz, classical and folk styles all get their attention, with a repertoire of both original and traditional pieces – including a few pop hits.
Their clever style fuses playfulness with absolute technical mastery, bound together with a cheeky smile and a charming sprinkle of vocal artistry.
Estonian Voices released their first album Ole Hea (Be Good) in 2014, which won the Estonian Best Jazz Album of the year 2015. In 2016 they were awarded Best Jazz Artist in Estonia. In summer 2018 they released their second album Taat läks lolliks (An old man lost his marbles) wich is mostly influenced by estonian folk music. It won the Estonian Best Jazz Album of the year 2018.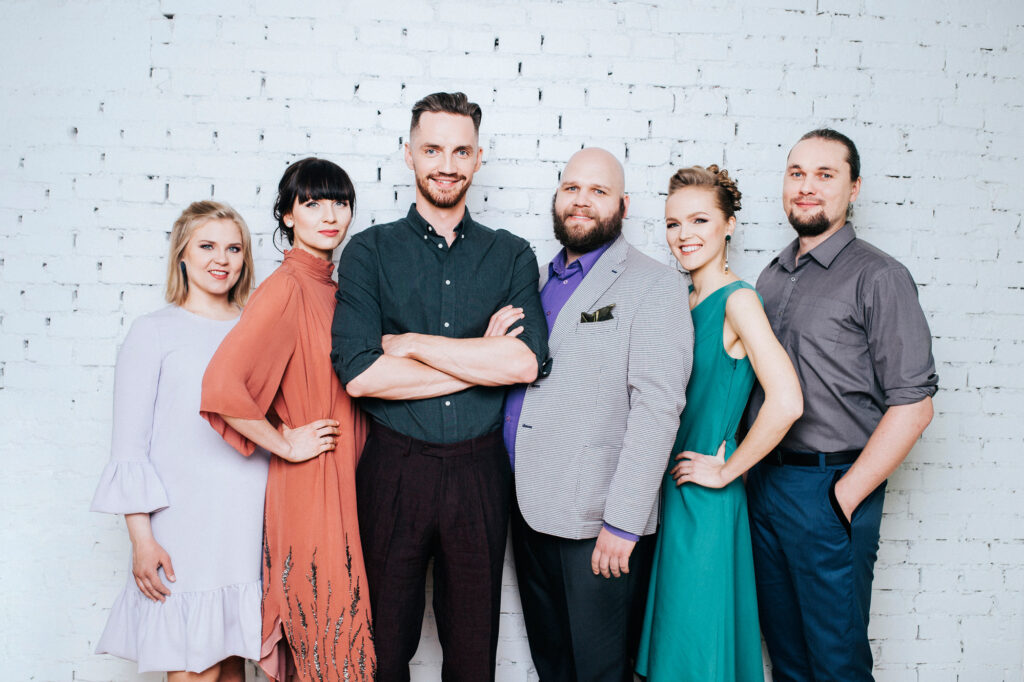 Svjata Vatra (in Ukrainian Свята Ватра "Holy Fire") is an Estonian-Ukrainian folk music ensemble. The ensemble's unique sound language is largely based on the collaboration of the Ukrainian trombone and the Estonian bagpipe and the performance of the ensemble's soloist Ruslan Trochynskyi.
The Ukrainian-Estonian Svjata Vatra ("Holy Fire") band plays folk music based on traditional songs, nostalgic children's games and Baltic melodies, with a fresh punk attitude.
BAND
Ruslan Trochynskyi – Vocal, trombone, scythe.
Juhan Suits ( Juss ) – Estonian bagpipes, wooden horn, whistle, vocal,  jew's harp.
Robin Mäetalu – Acoustic guitar
Ats Tani  – Bass guitar
Karl-Heinrich Arro – Drums, Percussion
Alo  Jaanivald – Sound engineering

Terje Trochynskyi – Manager
The collaboration between Tintura and Arno Tamme started three years ago. The joy and necessity of meeting and singing together shone from the recordings of Estonian folk songs that lived in Siberia. We realized that it fills a gap in ourselves.
Tintura blend beats and traditional music from their native Estonia to create a soundscape the seamlessly reflects the ancient songs and tunes of their homeland. They occupy a space where Baltic electronica meets tender folk song and fiddle music
We hope that the album will also inspire the listener and invite them to discover and notice the folk song traditions of both Siberian and Estonian Estonians. When we get together, we still sing!
BAND:
Karoliina Kreintaal –  vocals, violin, viola, 12-string zither
Taavet Niller – vocals, double bass
Lauri Täht – background samples, drums, percussion, scratching, vocals,
Arno Tamm – vocals, guitar, keyboard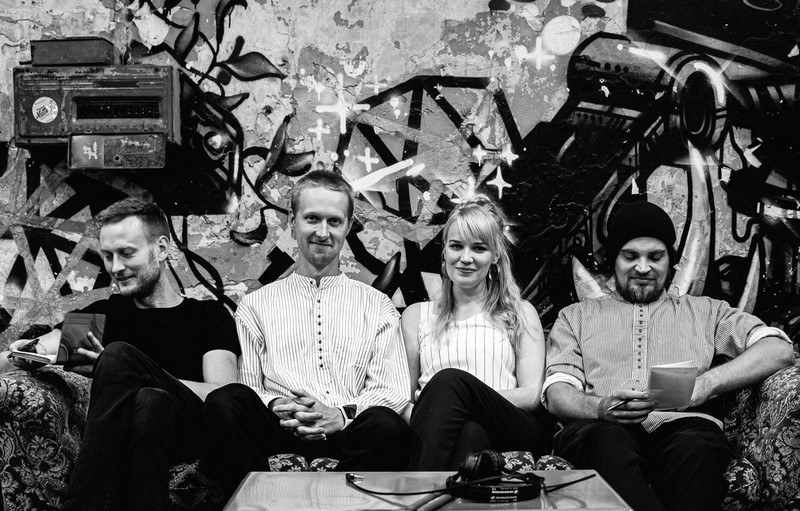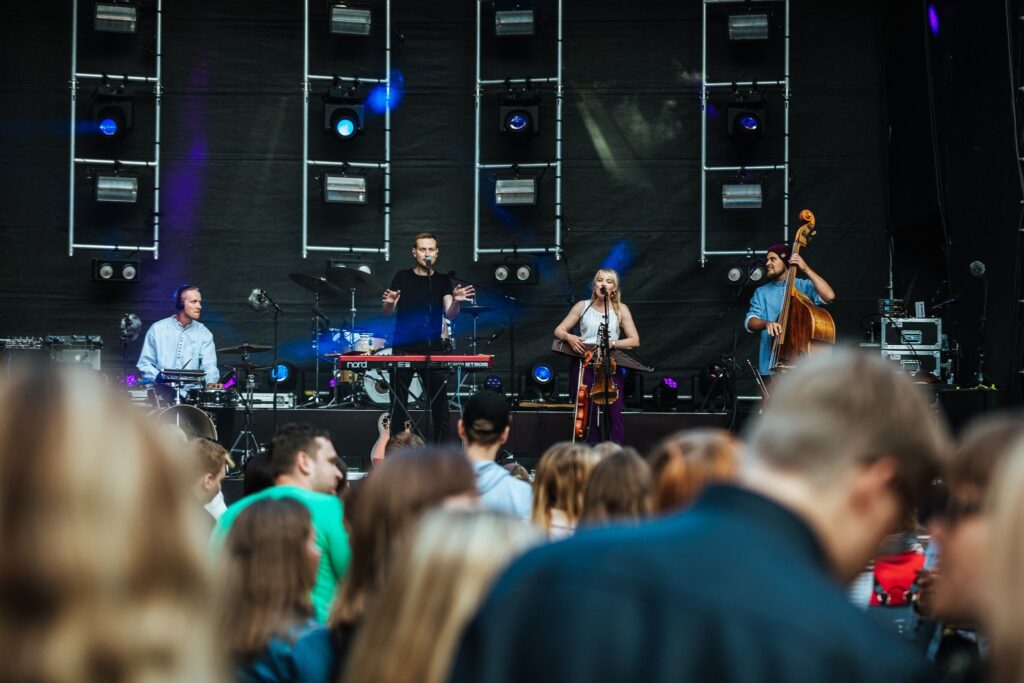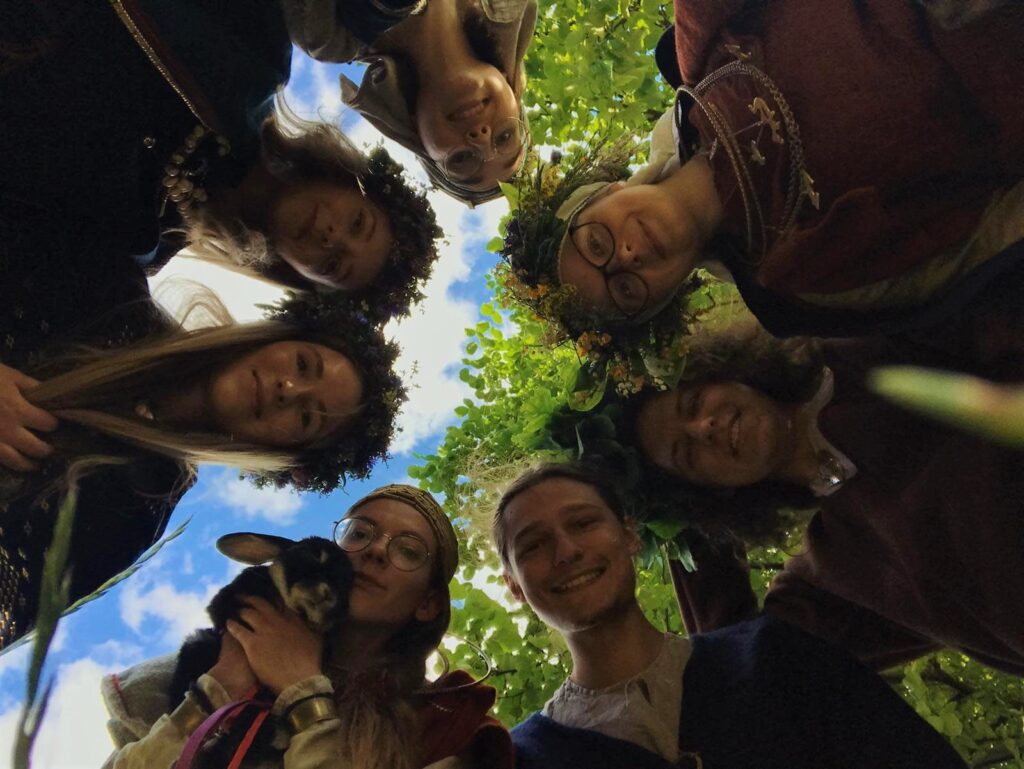 The folk group "Banga" was founded in 2016 by friends who grew up according to Latvian traditions and form the new generation folklore movement in Latvia. Over time, Banga has grown and developed, focusing on the study of traditional culture and the creation of conceptual concerts, performances and other events, all based on the folklore of Latvians and surrounding nations. Together, the members of Banga or the so-called "bandzenieki" learn the traditional way of singing, especially polyphonic and drone singing, as well as the acquisition of various musical instruments – bagpipes, kokle (Estonian kannel), vargan, accordion. , violin, mandolin, etc. The group also has traditional costumes made as reconstructions of archaic folk costumes. Banga's biggest projects have been the study of Latvian Jewish folk music, as well as a collective work called 'Talka' (Estonian Talgud), which is the central theme of their new studio album (scheduled for release in 2022).
Duo Mänd/Krüsban is an energetic and joyful combination of Estonian accordion and violin, who mostly perform traditional Estonian music with some additional foreign dance tunes. They are well loved for their traditional, yet fresh and youthful approach. This ensemble is the first winner of the Youth Traditional Music Bands' competition.
Regina Mänd – violin
Kert Krüsban – estonian accordion
Lina from Greece and her musicians from Pärnu appreciate the traditional music of her homeland – this is the ensemble Mr. Buzuki & Rembetes. Mr Buzuki or Olavi Kõrre is probably the most well-known and long-term performer and popularizer of Greek music in Estonia, many Greek songs and pieces of music have become famous in his performance.
Greek music is unique and captivating. The names Demis Roussos, Nana Mouskouri and Mikis Theodorakis were familiar even to the Estonian SSR radio listener, Alexis Zorbas and his famous dance from the film of the same name offer the joy of recognition to many.
However, Greek music is much more diverse and detailed. One of the many historical styles of Greek music, mainly the folk music of the common people of Greek coastal towns – rebetiko – is also performed by Mr. Buzuki Rembetes, hence the name of the band.
The style of music that emerged and spread among Greek unskilled workers, the poor, criminals and other so-called lower class people at the beginning of the 20th century became more popular over time, representing the anti-dictatorial protest movement and the port city subculture. The theme of Rebetiko's songs revolves around the same themes that formed the daily lives of these singers: love, poverty, drugs and crime. The legend tells of a prison manager who liked the style of rebetiko music so much that he gathered the best musicians and singers of this genre in prison.
Band: 
Margarita Voskanyan – whistles, flutes, bagpipe
Olavi Kõrre – vocals, buzuki, tsoura, violin, cajon
Veiko Rea – accordion
Argo Mägi – mandolin, baglama, song
Jaano Martin Ots – baglama, buzuki, guitar
Andrus Haugas – guitar, tsoura, percussion
Lina Vouraki – vocals, percussion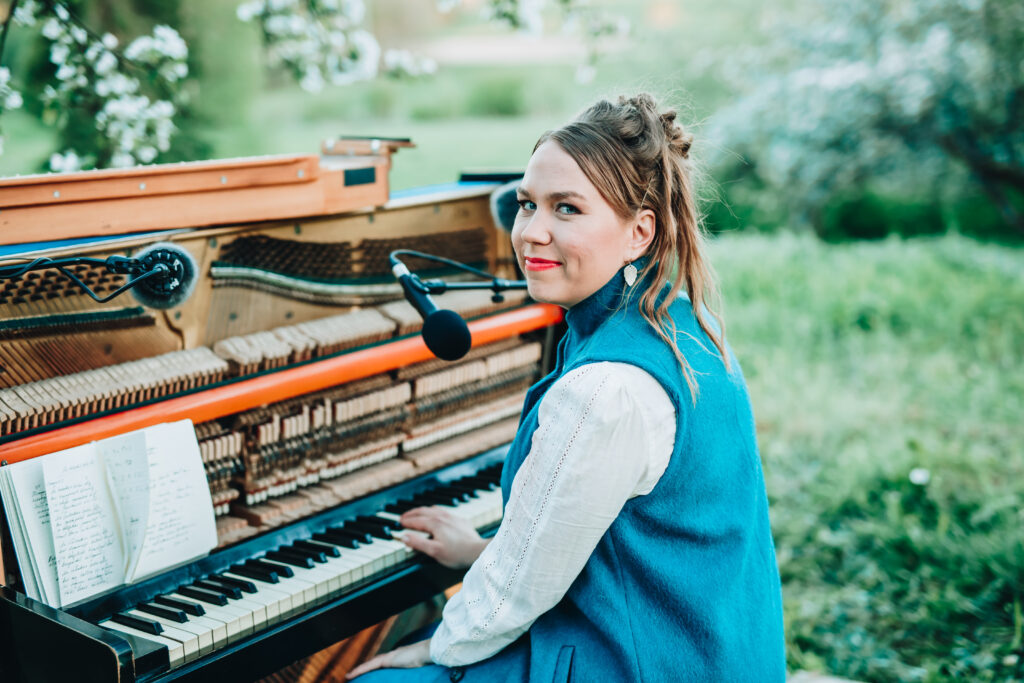 Mari Kalkun is a musician, singer and a composer relying on her Southern Estonian roots. The songs are largely her own compositions, inspired by nature, Estonian poetry and folk music. Many of the lyrics are written by local poets carrying the feeling of rural life, the forests, the landscape. The flowing sound of Estonian language and its dialects create a meditative atmosphere in her music intertwined with the traditional singing – regilaul – and folkore. For making music and accompaning herself she uses kannel, piano, accordion, guitar but sometimes also pipes, whistles and various experimental instruments.
Five young virtuosos who added Moldova to the metropolitan storm: this is PásztorHóra!
Since its founding in 2014, the band has played on more than a hundred stages, in seven different countries, for at least ten thousand people. The fun lasts overnight, the beats rhythms and whirling ways – no wonder no one can resist them!
Jumping back and forth on the border of world and folk music, modern ideas merge with old and new traditions, making PásztorHóra light and natural, but at the same time powerful. The archaic style of the old peasants becomes a natural modern 21st century story, making it suitable for modern stages,
proving that folk music is in fact both historical and contemporary.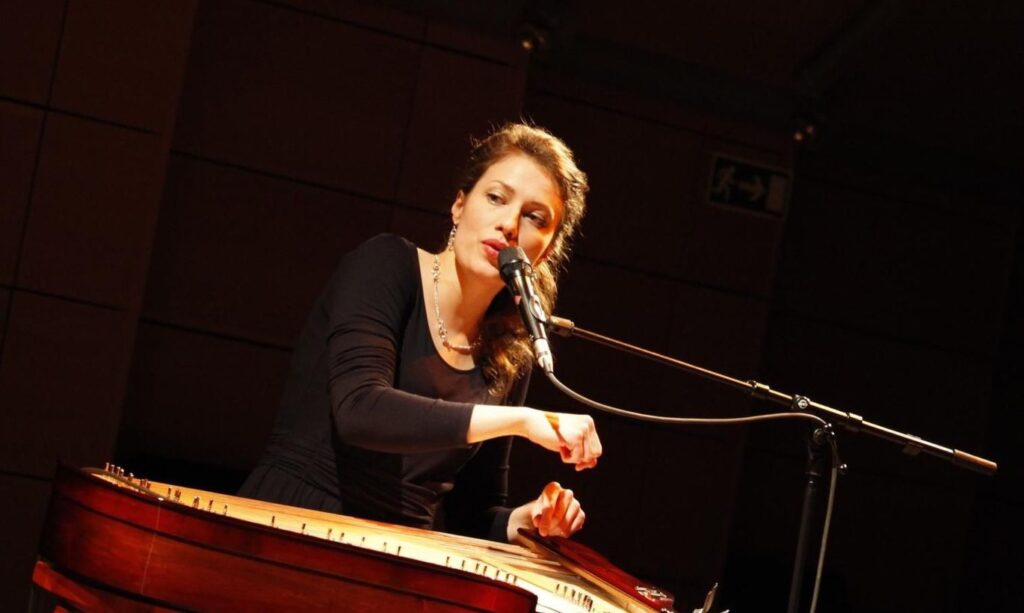 IDA ELINA
is a 26-year-old Finnish singer-composer and younger vocalist. Her play, intertwined with an expressive and powerful song, is a performance that has simply not been heard before. She has mentioned pop legends Michael Jackson and Whitney Houston as her influencers and role models, as well as gospel star Kirk Franklin.
Ida Elina is Finland's first pop-jazz kantele player, who graduated from the Sibelius Academy with a master's degree in music in 2012. She is the winner of the 1st International Kandle Competition held in Helsinki in May 2011.
The ensemble mainly performs "Justament's music", which is a mixture of folk country and rock beat music. Words and messages have always been of great importance in the band's work. Justament started with folk and country music, cultivating bluegrass and country rock, then turned to beat music tracks and now performs a mixture of it all.
The main authors of the stories through the ages have been Vello Toomemets, Viktor Vassiljev, Indrek Kalda, Toomas Lunge and Jaan Elgula. The authors of the texts are Hando Runnel, Juhan Sütt, Villu Kangur, Teet Saviauk, Anzori Barkalaja, Katrin Pärn, Heldur Karmo, Inga Lunge and Marek Sadam.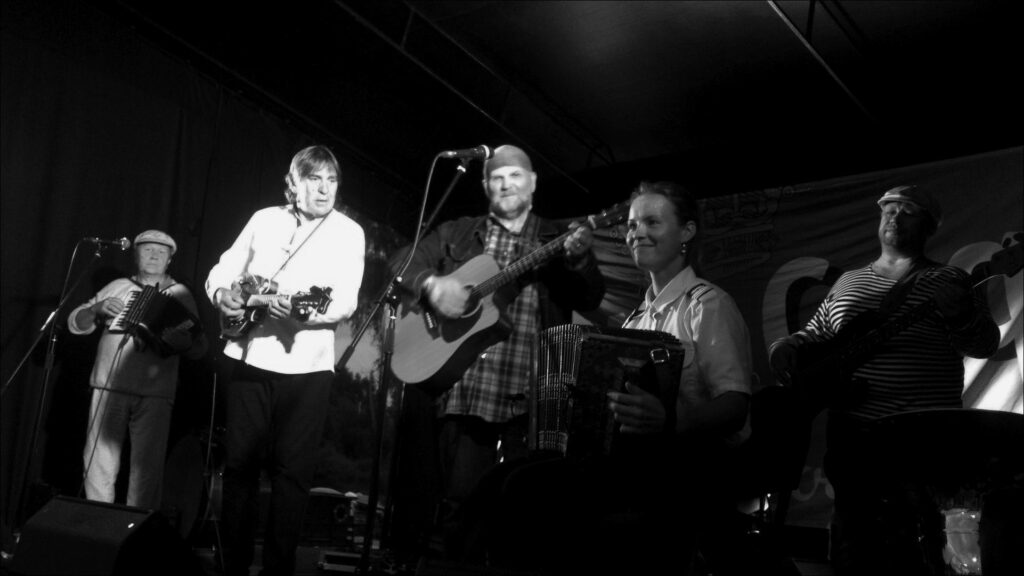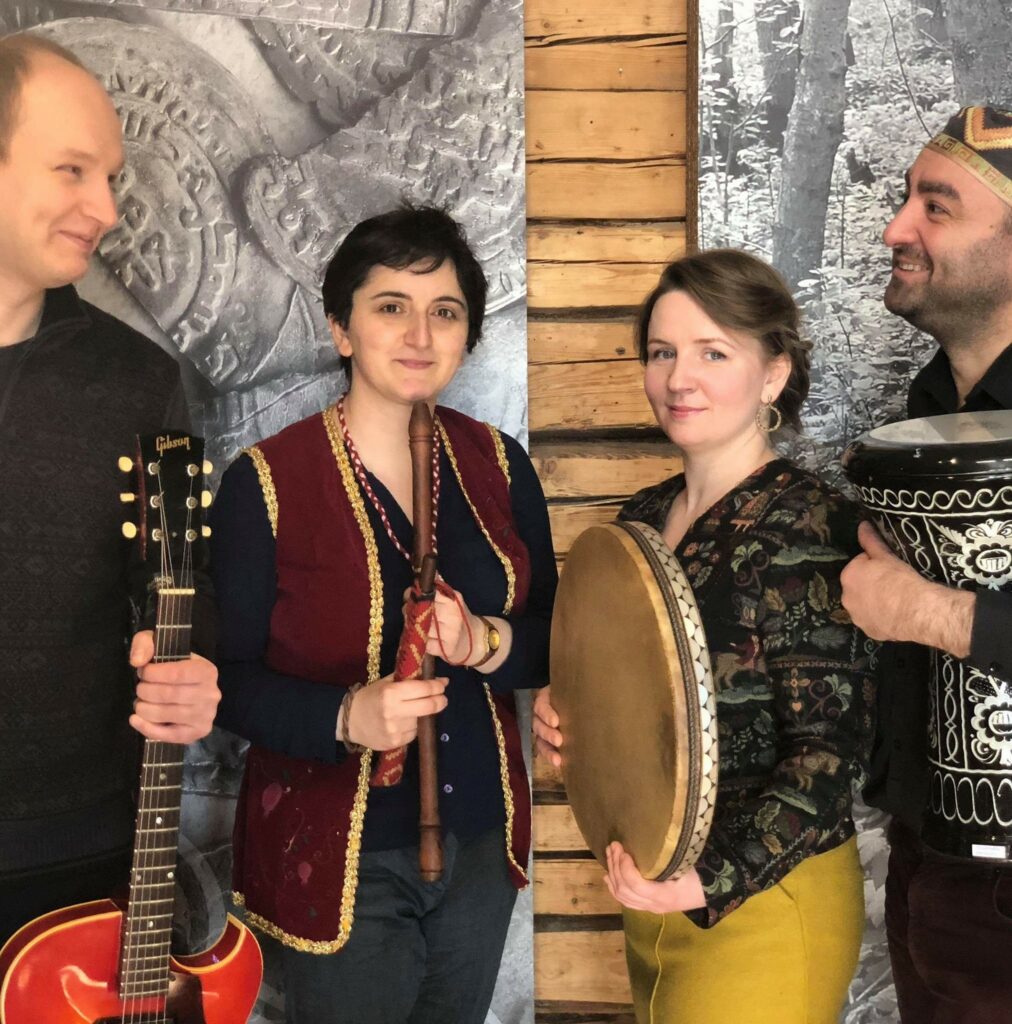 The Shabbat Quartet is an Estonian-born ensemble where Armenian and Jewish folk music meet. The beginning of the band's name "shabat" means Saturday in both Armenian and Hebrew. The quartet's music features captivating rhythms, jazz harmony, breathtakingly beautiful melodies and improvisation. Yoskyan's, Jaanson's and Kremenetsky's approach to jazz trio gives a very special sound to Voskanyan's skillful mastery of whistles and his knowledge of folk music.
Heinavanker is a unique meeting place for a group of friends who have sung together all their lives. Under the guidance of composer Margo Kõlar, the rich heritage of early church music is delved into, the traditions of ancestors and the dreams of modern times are synthesized. Estonian folk choirs, ancient reggae songs as well as the works of Estonian contemporary authors have a worthy place in Heinavankri's repertoire. Just as the singers of a century ago were creative in their melody, so is Heinavanker trying to keep the ensemble settings of the songs alive and evolving. The improvisational freedoms of the ensemble's original vocal arrangements allow the songs to sound a little different each time.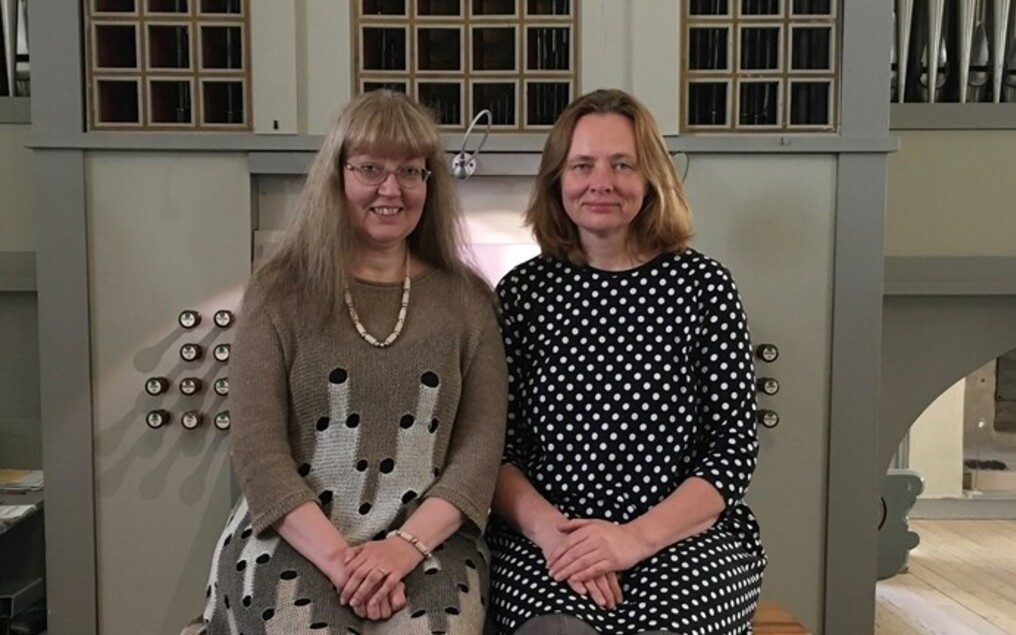 Ene Salumäe and Celia Roose
The beginning of the co-making of Celia Roose and Ene Salumäe dates back to decades to the time of the Academy of Music in the field of choir conducting. Together they have sung both Tormi and Kreek, the common charm and power of the organ and bagpipe discovered together.
The close connections between organ music and folk music have been introduced through the juxtaposition of the organ arrangements of Estonian folk melodies created by Edgar Arro, unique in the world, and the original folk songs found for them in the ensemble Arrotajad. Inspired by Arrotajate's concert programs, Enel made the organ arrangement based on Veljo Tormis' choral cycle "Thirteen Looks at the Organ" (2010) and Celial's organ cycle "Suite of Estonian Shepherd Songs for Organ and Voice" (2013).
Creativity and creativity, the spirit of improvisation and the joy of making music together are uniting Celia and Ene even today!
Hiiu Folk's performance is especially gratifying also because Ene has been rooted in the seaside Reigi for centuries through her maternal grandmother!
The ensemble Tuli Taevast has grown out of the Music Studio "Vaikuse Muusika", where interest in old music and forgotten instruments began. In the performance of the ensemble you can hear both newborn ways and centuries-old eternal melodies from Estonian religious folk songs to traditional music of distant lands. The old stories have been given a new breath in the fresh setting. The members of the ensemble hope that the performed music will have a healing effect.
The chamber choir "Credo" has been working together since 2006.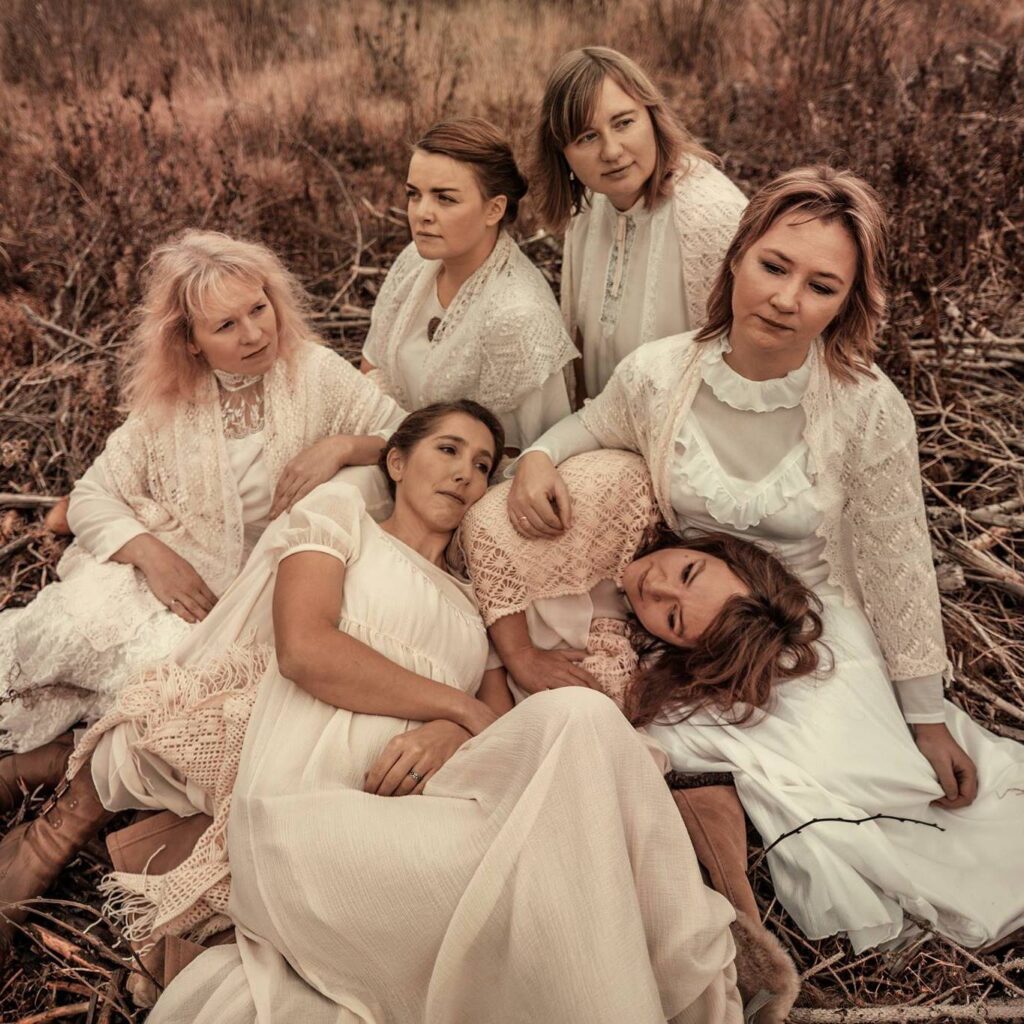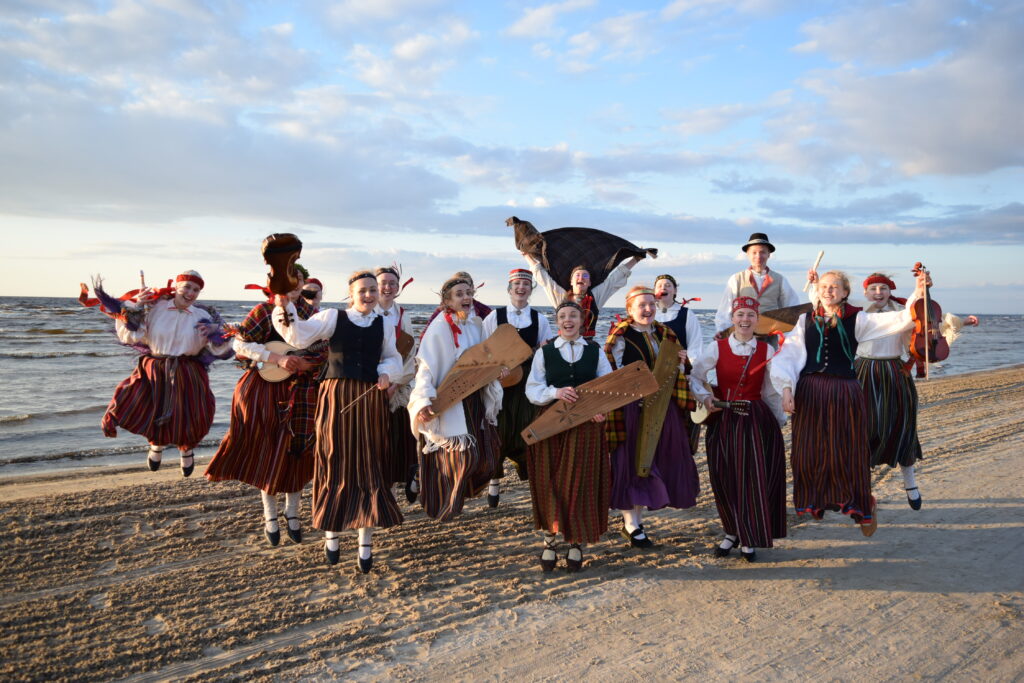 The folklore group Kokle was founded in the spring of 1980. Kokle (zither) is the most famous traditional instrument in Latvia due to its soft, harmonious sound and unique aesthetics, and as such was and still is a powerful symbol in many traditional songs and stories. The instrument usually has 5-11 languages ​​and has historically only been played by men, although today it is mainly common among women.
The folklore group has a wide repertoire consisting of traditional and modern music. In addition to traditional folklore materials, the members and leader of the group Dina Liepa also use their creativity and knowledge of contemporary music to create world music. Each participant in the group plays at least one musical instrument and sings.
Playing together, in addition to the kokle, the members of the group also play recorders, violins, mandolins, accordions, drums, acoustic guitars.
In addition to music, the arsenal of the folklore group includes various traditional dances. Both historical Latvian dances and popular dances of the beginning of the 20th century: pair dances, ring dances, game dances and four pair dances.
Kokle has participated in folklore festivals and master classes in Latvia and elsewhere in the Eurogroup, namely in Belarus, Bulgaria, Denmark, Finland, France, Germany, Hungary, Lithuania, Poland, Russia, Italy, Spain and Norway. Now also in Estonia! Welcome to listen and dance along!
Zither player Tuule Kann and storyteller Piret Päär form a harmonious and fairy-tale line-up. At their concert, people start believing in miracles again and notice the miracles around them. Wonderful chanters carry the listener like a magic world where everything impossible becomes possible. Come and allow yourself to experience an experience that brightens both soul and spirit!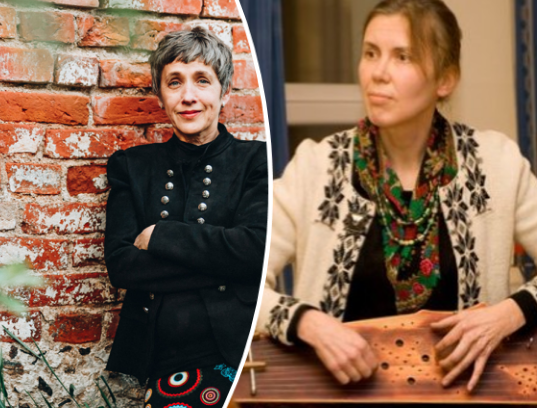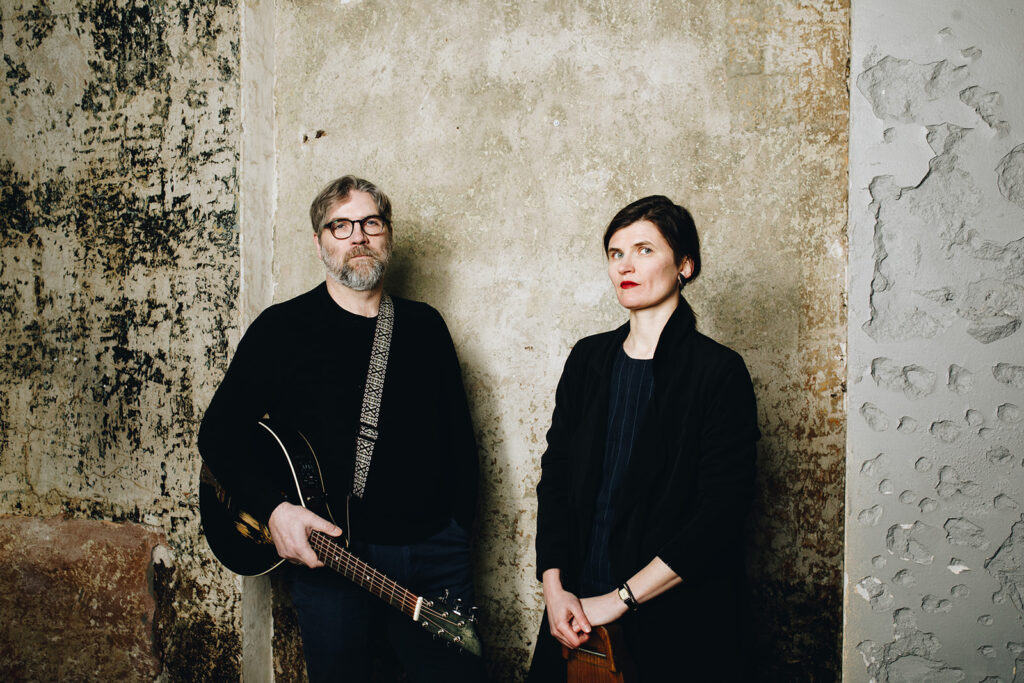 The instrumental ensemble VIIK unites two musicians who have been editing Estonian traditional music for a long time – Kadri Lepasson (12-string kannel) and Ott Kaasik (guitar, Swedish lute) – who have decided to combine their instruments and creativity. The 12-string kannel and guitar look for harmony and self-expression in the world of self-creation.
The music of the duo is personal and the face of the authors, giving the listener the opportunity to take part in the creators' travels, celebrations and everyday life, and all the emotions that come with it. You don't often hear the kannel and the guitar playing on the stage together, so it's enjoyable how they merge into a unified whole in the soundtrack of the duo VIIK music. Come listen and see for yourself!
Wana Wõromaa Wunkorkestri
The 17-member team includes music lovers of all ages (the youngest 10 years old, the oldest 52 years old) from Vana-Võroma. Today, this area can be understood as an area connecting a foreign-speaking people and a cultural space, which flows to a greater or lesser extent through Võru, Põlva, Valga and Tartu counties.
The author and initiator of the orchestra's idea was Kadri Laube; The current composition is supervised by Kadri Lepasson, Ott Kaasik and Kaisa Kuslapuu. There is a lot of talk in Võrumaa about some mystical "vunk" and this – efficient going, smooth playfulness – is also sought in this band. The repertoire of the WWW includes instruments picked from the aforementioned areas, as well as traditional new creations. Vana-Võromaa has been administratively fragmented for the last 100 years, but on the WWW, regional instrument sounds can be set together.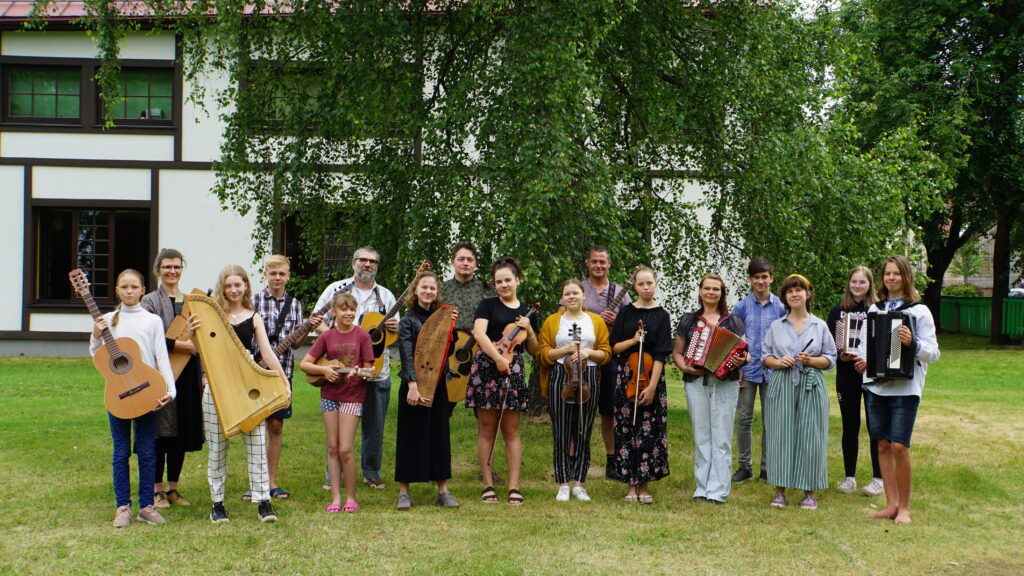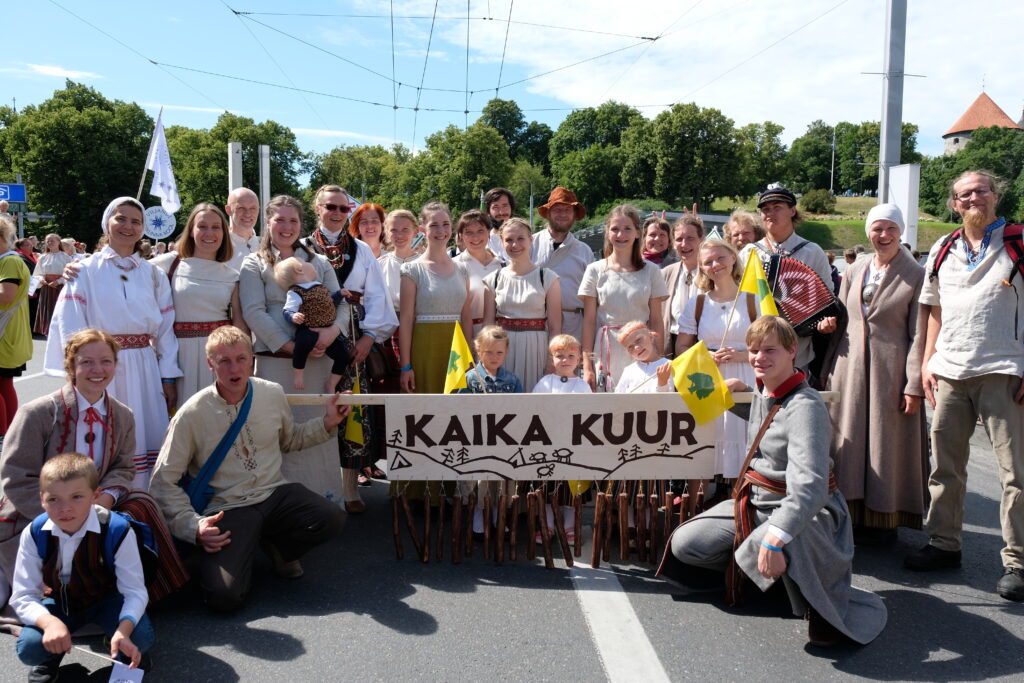 The mixed choir "Kaika kuur" was formed in September 2017. The patriotic songs sung at the community's festive party sounded powerful and evoked a sublime feeling, as if at a song festival. More bright country people wanted to sing more together. Initially, the target was to participate in the 2018 Uma Party as a frog choir, ie only as a unanimous five-choir. However, already during the first singing exercise, it became clear that the potential of the gathered singers is much greater. This is how Uma participated in the Party as a full-fledged mixed choir. The joy of singing and great company gave me the strength to continue as a mixed choir after Uma Pido. Next season we already covered the repertoire of the general song festival and participated in the XXVII song festival "My arm".
Just in case, a word from the name – Kaika is the name of a village located in Antsla municipality in Võru County, where the choir gathers for singing exercises and the word "choir" is "shed" in Võru. The mixed choir "Kaika kuur" is the successor of the Kaika mixed choir, which started its activities at the end of the last century. There are 21 singers in the choir and the choir leader is Celia Roose.
Having reached one side with Uma Pido and the general song festival, we found that we should do more and strive for the sea … and please, here we are!
Violin teacher Eveli Roosaar started organizing student violin camps at her home farm in the summer on the shores of beautiful Karijärve near Tartu. They started fifteen years ago and the number of participants was growing. This is how the Karijärve String Orchestra (KKO) was born, which consists mainly of young musicians studying at the Heino Eller Tartu Music School or who have just graduated from the school's youth department. The members of the orchestra are united by a love for classical and folk string music. The performances of the Karijärve String Orchestra always pack the joy of young people's performances, which also attracts the audience. The fruits of the orchestral work are recorded on two double discs: "Migration" (2014) and "Growth" (2018).
The orchestra will perform for the first time at the Hiiu Folk Festival. The brand new concert program "Joy of a Beautiful Day", specially prepared for the festival, is inspired by Raimond Lätte's musical work of the same name.
The concert will feature polkas, reinliners and waltzes as well as K.A. Hermann's "Munamäe", M. Härma's "There can be no silence" and "Tuljak", folk choirs arranged by C. Kreek and of course also R. Lätte's "Joy of a beautiful day".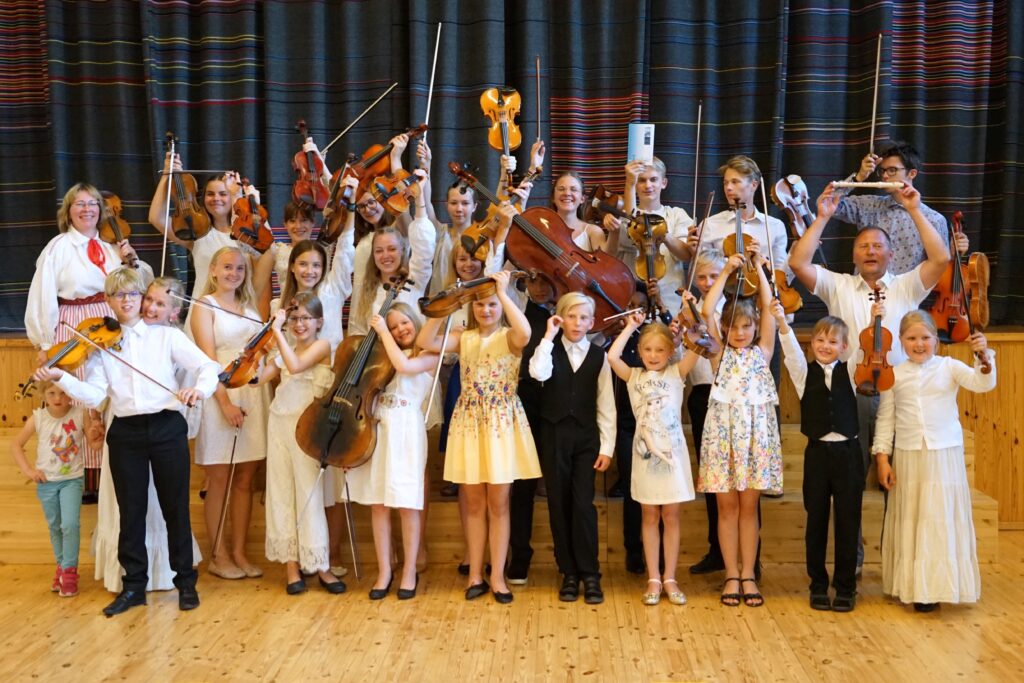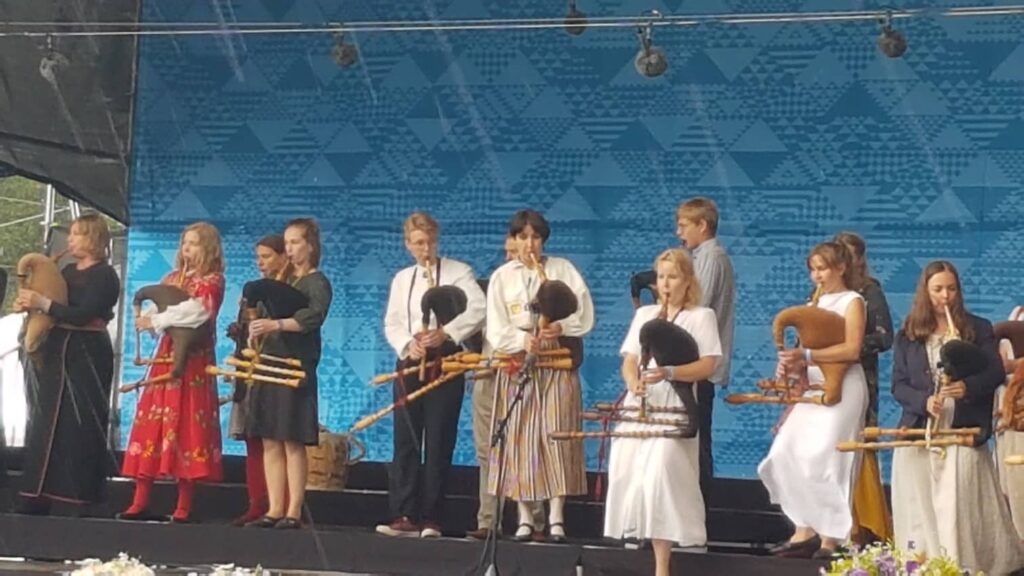 Estonian bagpipe ensemble
The Estonian Bagpipe Ensemble gathered at the folk instrument festival of the 2019 jubilee song festival "My Arm". For the first time in history, bagpipes were rehearsed for a year in a separate instrument group at Vabaduse Square, and polyphonic Estonian bagpipe settings created especially for this event were performed by Cätlin Mägi, Katariin Raska and Merike Paberits. The same players have continued to perform in smaller ensembles at Tribal Days, the concert of traditional musicians at the opening of the Estonian Academy of Music and Theater Concert Hall, the 80th birthday of the Zoo on Hiiu Folg, the Estonian Clergy Conference in Nelijärvi, the green stage of Viljandi Folk Music Festival and elsewhere.
We are united by a passion for polyphonic bagpipes and ensemble playing, and we want to show the charm of playing bagpipes together. We are pleased to open the 2021 Hiiu Folk. Our performance is a homage to the famous Torupilli Jussi or Juhan Maaker from Hiiumaa, who was born 175 years ago last year
Members of the ensemble performing at Hiiu Folg: Egle Liiskmann, Lilian Kapp, Toivo Tähemaa, Susanna Mett, Piret Arikainen, Kristin Üksvärav, Johannes Christopher Staak, Kadri Allikmäe
Bansuri player Krista Citra Joonas and songwriter Kristjan Üksküla will meet in the Kassari chapel in the silence of twilight and the glow of candles.
In music, they met for the first time in 2016 when Kristjan Üksküla, best known as a theater and film actor, was releasing her first record of the song "Sleeping Song". The collaboration also continued on Kristjan's second album "Over the Edge", released in 2020.
At this concert you can retreat to the quietness of the festival for a while and listen to the songs of Krista Citra's bamboo flute, Kristjan's songs and the late Indian evening raaga.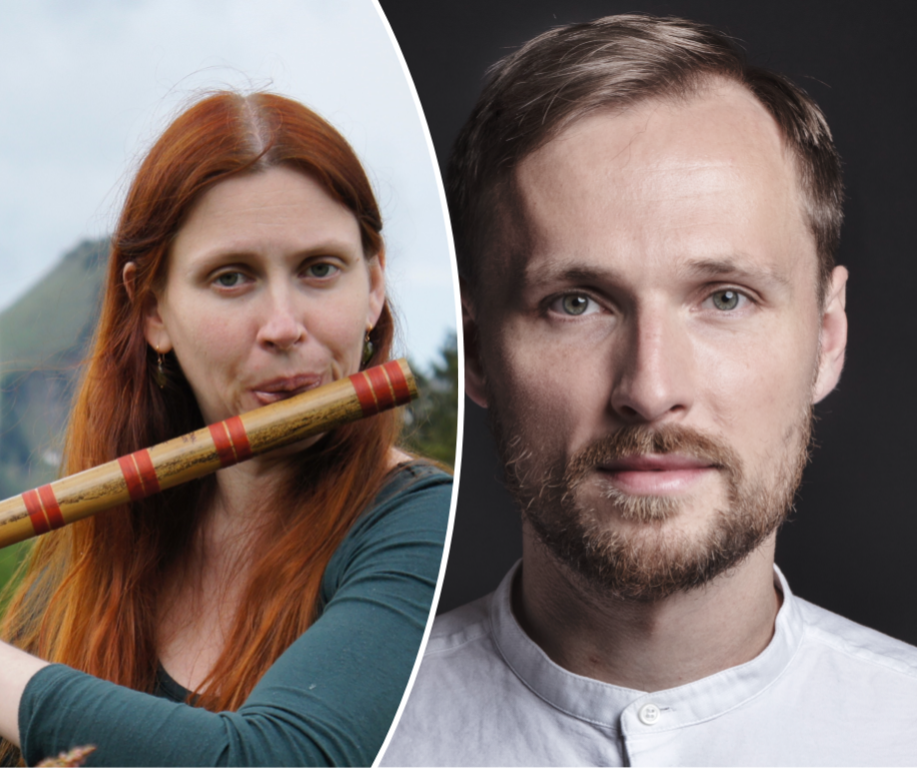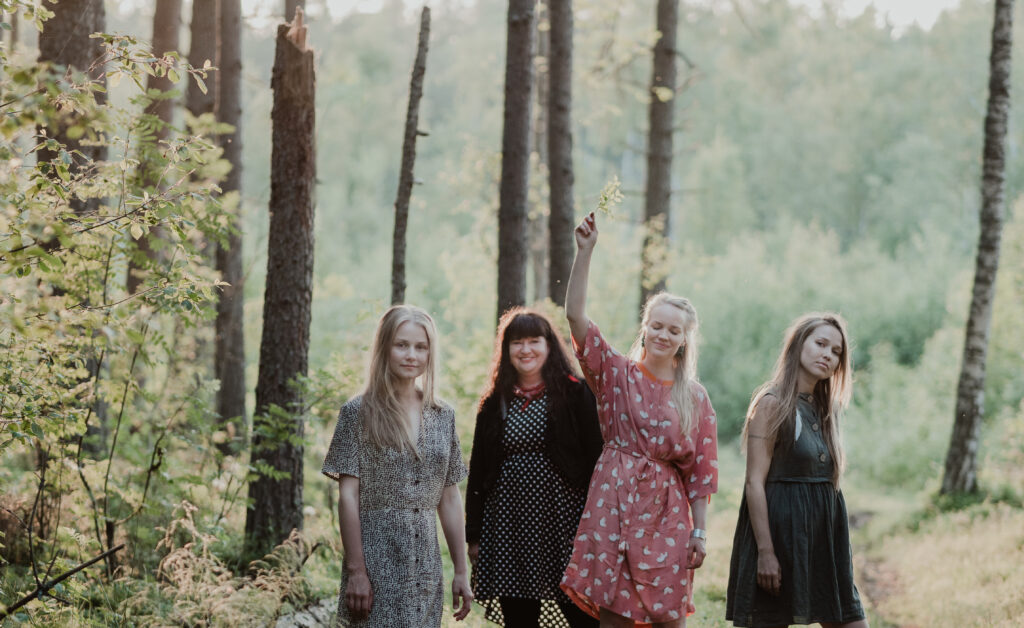 We take a trip to the center of Ruhnu Island's events and beautiful nature – to a wedding, party, seaside, community center, church or right in the middle of the daily life of the island. In addition to skilled sealers and skilled craftsmen, Ruhnu was once known for its great violinists.
Karoliina Kreintaal, Lee Taul and Sänni Noormets came up with the idea of ​​organizing a violin camp on the island in order to revive old songs. By now, for seven years now, this camp has made the whole island sound and buzzing again with Swedish music. Recently, stories from Ruhnu were recorded on the record, which introduce Ruhnu's written tradition from Ruhnu-Swedish wedding stories to island-inspired self-creation. Kairi Leivo tells colorful stories and village chronicles collected from the island.
Composition:
Karoliina Kreintaal – violin, viola, vocals; Lee Taul – violin, vocals; Sänni Noormets – violin, viola, vocals; Kairi Leivo – storytelling
Bansuri player Krista Citra Joonas and songwriter Kristjan Üksküla will meet in the Kassari chapel in the silence of twilight and the glow of candles.
In music, they met for the first time in 2016 when Kristjan Üksküla, best known as a theater and film actor, was releasing her first record of the song "Sleeping Song". The collaboration also continued on Kristjan's second album "Over the Edge", released in 2020.
At this concert you can retreat to the quietness of the festival for a while and listen to the songs of Krista Citra's bamboo flute, Kristjan's songs and the late Indian evening raaga.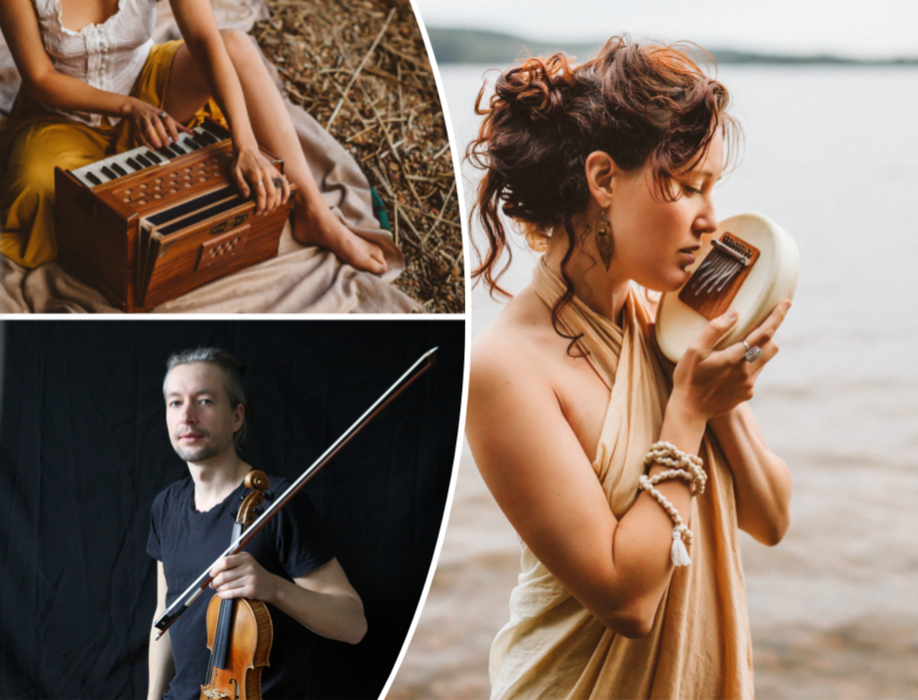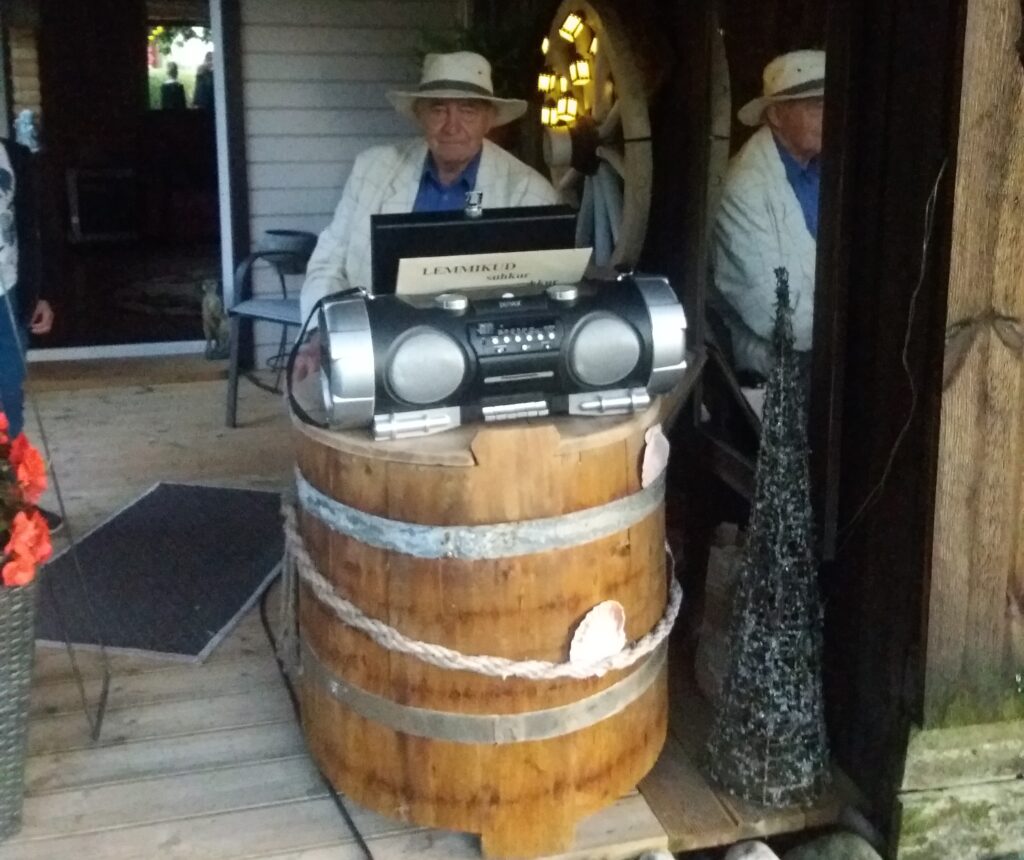 Valter Parve is a world changer, folk lover, music lover, DJ of vinyl records, summer healer, long-term educator and lecturer at UT Pärnu College, social field developer in Estonia.
As part of Hiiu Folgi, this time he will conduct two exciting and free workshops at Kassari Rahvamaja: on Friday at 3 pm you can celebrate the 160th anniversary of La Paloma with Valter's vinyls and on Saturday at 3:30 pm everyone can sing their beloved verses together!
La Paloma 160!
Spanish (Basque) composer Sebastian Yradier (1809 – 1865) wrote his hugely popular melody under the influence of Cuba, and although the year of birth of the song (1859, 1860) is still controversial, 1861 is believed to be correct by many authors. from my different recordings, there are exactly 70 of them in my vinyl collection today – in different languages, with different rhythms, performed on different instruments, as solo and choral songs. This year's Hiiu Folk offers a free entrance to the Kassari community center on Friday, July 16, starting at 3 pm, with the opportunity to listen to them according to their wishes and at the same time share memories related to longings. For centuries, many fathers, sons and spouses have gone to sea from the island of Hiiu, and La Paloma is trying to bring out in its own way what the soul has gathered while waiting for reunions.
Poems
The Estonian language and culture are in danger, the old are not cared for, education is degraded, etc. – why doesn't anyone up there do something "up the hill"? Something is probably being done (is it said?), But if people themselves do not keep their ancestral legacy, then these commissions are of no use at all. One ancient way of communicating is singing together and passing this custom on from generation to generation is a commendable act of nationalism. In the workshop of verses of the previous Hiiu Folg, the mother was next to her son and daughter (teenagers!) And the young people were able to do everything they could – they will probably also be singing at home parties. "Stay free, Estonian sea" and "Behind the sauna, by the pond" – both are important! This year's folk song workshop will take place on Saturday at 3.30 pm and, as always, free of charge and at the Kassari community center. And as always, a prayer for all those who come – bring your own home verses-singers, wedding and other party songbooks. It is better to keep Estonia alive by acting together than by worrying alone!
Valter Parve,
Kärdla Elementary School Toddler Choir
Conductor: Raili Kaibald.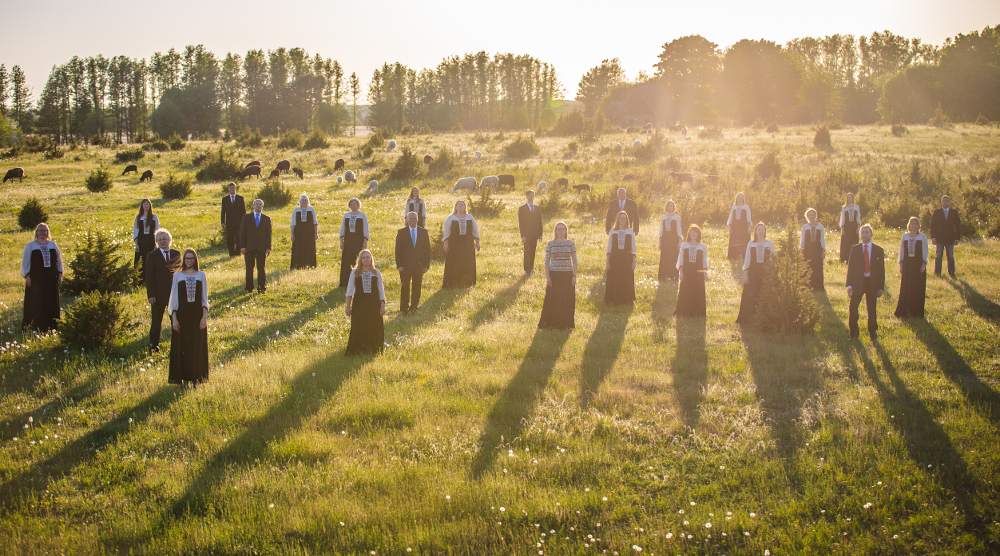 Kärdla Kammerkoor (chamber choir) was established in 2011. The choir's founder and conductor is Raili Kaibald. Despite their very different background and interests of leaders, artists, sellers, electricians, teachers, etc the singers are combined by love for choral music.
In 2012, the choir gave its first Christmas concert, as well as performed at several important events in Hiiumaa. In the summer of 2013, the choir represented the town of Kärdla on Sillamäe Sea Days and participated in the Pühalepa Music Festival.
In 2014, the choir sang at the Sing and Dance Festival and Hiiu Folk. The most groundbreaking event was in December 2014, when was presented a performance of Vivaldi's "Magnificat" with an orchestra and recognized soloists. The choir has worked with many well known conductors as Toomas Kapten, Veronika Portsmuth, Küllike Joosing and Valter Soosalu. Triin Ella has helped with the voice setting. In addition to singing, the choir's main line of action is to bring sophisticated musicians to Hiiumaa. In the summer of 2016, chamber choir Voces Musicales visited Hiiumaa island for the first time, bringing all Bach's motets to the audience. Kärdla kammerkoor has given concerts in Hiiumaa with several very appreciated choirs: chamber choir Helü, Mixed Choir of Estonian Cultural Capital, EBS Chamber Choir, Tartu University Female Choir.
In 2017, Kärdla Kammerkoor, in cooperation with Käina Hobby and Culture Center, organized a concert "Beauty belongs to Hiiumaa" as a gift for EV 100. In 2017-2018, the choir organized numeral trips to different concerts to broaden their horizons. Several concerts were given on the island – "Rowan is blushing again" (in cooperation with EBS Chamber Choir in Emmaste), "Evening Beauty" in Kõrgessaare and "For the Light" (in cooperation with the Cantuscören Choir of Stockholm) in Käina and Kärdla.
In 2019, the choir sang together with Tallinn Music High School ansamble "Three Musketeers" and stepped up in joint concert "Beautiful You, Fatherland" with Kärdla Mudilaskoor (Children's choir) and Tallinn Music High School Children's Choir. We wish the choral music would reach many children and young people. The motto of the choir is Gideon Kremer's shared idea: "We don't just want to be listened to, but to listen to something ourselves. Stay young at heart and keep exploring unknown trails with risky ideas.
Marta Chan started studying traditional music at the Estonian Academy of Music and Theater a year ago. Marta's father is from Hong Kong and her mother is from Estonia and she was born and raised in Estonia. He started learning his main instrument – the violin – as a child. Teacher Kaari Klesment planted the seed, but interest in traditional music arose over time, especially after researching his own family history.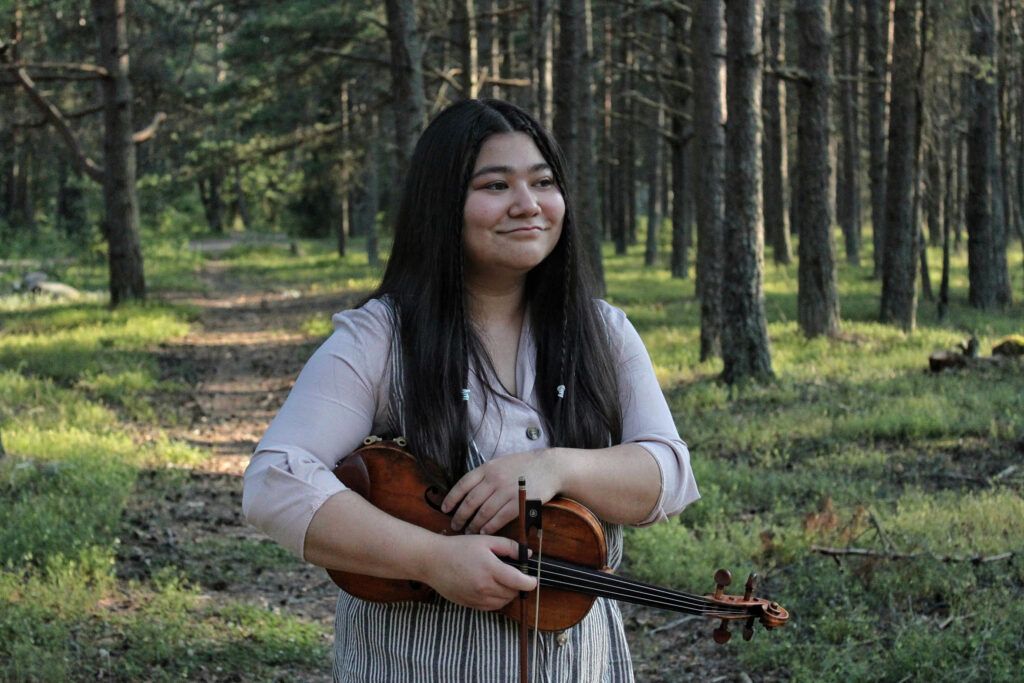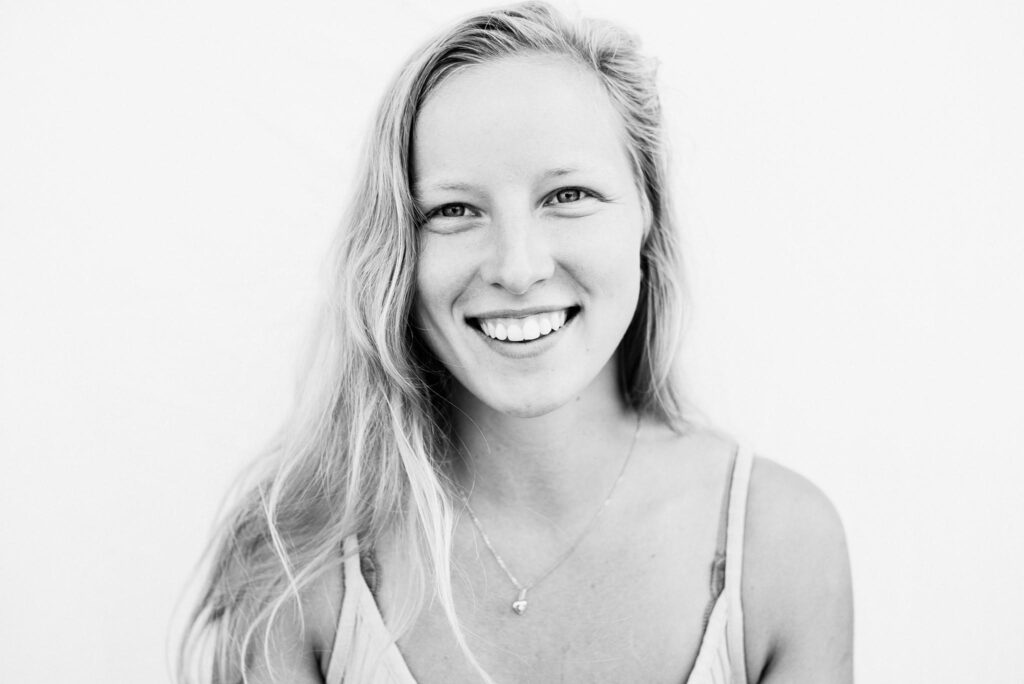 Karolin Kõrre is a singer & songwriter, improviser and music teacher.
She began making music at the age of fifteen when he consciously wrote her first song. Karolin has graduated from the Estonian Academy of Music and Theater with a master's degree in modern voice improvisation, which expands the possibilities of voice expression and encourages playing with the voice. She also works as a music teacher, enjoying this work to the fullest and also finding inspiration in this work to create.
Karolin's work is introspective, encouraging me to look at ourselves gently, breathlessly and lovingly.
Tiit Leito is an Estonian ornithologist and nature photographer who will present his recently published book "The Sea Speaks in the Language of Winds" during Hiiu Folk's time. On Friday and Saturday (July 16-17), the author's classes are at 15.00 -16.00 and 14.00-15.00, respectively. Come and admire with your own eyes!