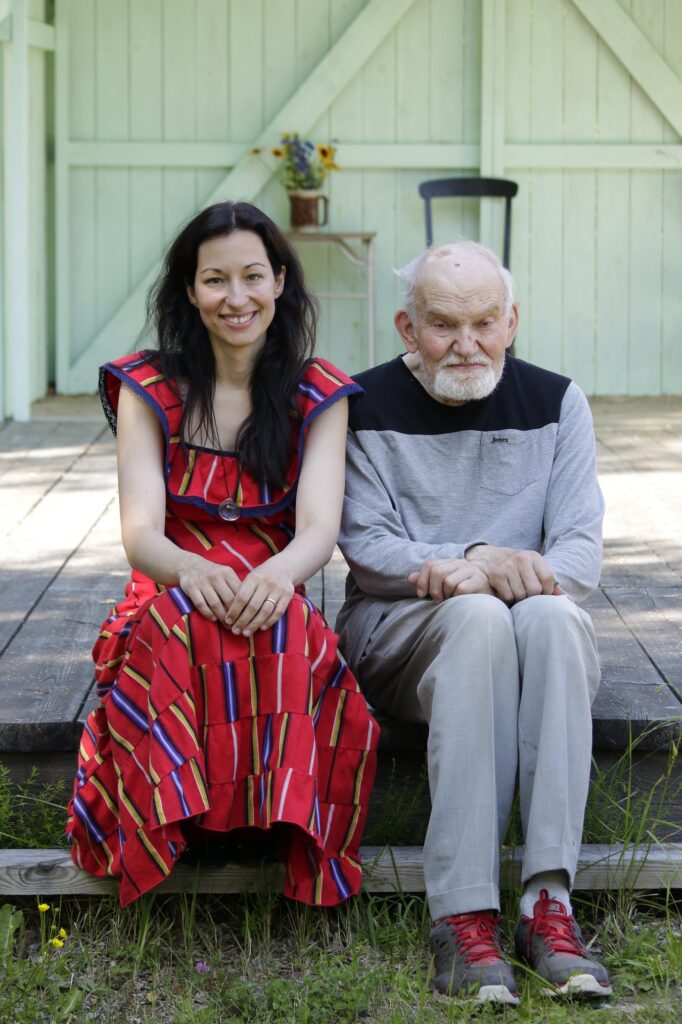 HELLO! I AM ASTRID.
I am a folk musician, chief organizer and program manager of 'Hiiu Folk'.
I live on Hiiumaa, a small, lovely island in Estonia, where I have been organizing the Hiiumaa folk music festival 'Hiiu Folk' for the last 16 years. The festival was born out of my love for folk music and Hiiumaa.
'Hiiu Folk' is a small and cosy festival, the core keywords of which are sincerity, authenticity, family and environmental friendliness.
Since 2007, our festival has become non-alcoholic – the only non-alcoholic festival in Estonia. We want mothers and fathers to be able to look at each other and their children with a clear and loving look and find sincere and pure joy in beautiful nature, great music and wonderful company.
'Hiiu Folk' is a major event of the short Estonian summer for many music and nature lovers, offering authentic experiences and bright memories. You are welcome to take part in this beautiful party!
See you at Kassari Swinginging Place!
Astrid Nõlvak
'Hiiu Folk' is the most family- and nature-friendly folk music event in Estonia, which is the only alcohol-free festival in Estonia. Values of 'Hiiu Folk' are: family-friendly, green, safe and authentic.
"In my view, 'Hiiu Folk' is just one of the events that remind me of a tuber of a plant with beautiful flowers – something little, something underground and secret. I hope that the tuber of this holiday will survive a few more cold winters and, therefore, will bloom brightly in the summer sun, as it has so far."
"In addition to listening to and creating music, the folk festival is also a good reason to wear folk costumes and stylized clothes with national elements, from yesterday's own sewing to the times of the Vikings. One day I found a beautiful handmade product – a white shirt embroidered in white. And only after the holiday was over, my mother joked about the fact that I took part in the celebrations... in a nightgown… I, on the contrary, was extremely proud. Enjoy looking for treasures in all directions and have good findings, dear participants of the folk festival!"
"Hiiu Folk" is like a refreshing breeze on a hot summer day: it refreshes, soothes and brings new good ideas.
Thank you, Astrid, for bringing folk to our home!
See you at the festival!"
"It's good when not all open-air events smoothly turn into a "beer summer", where crowds scurry around with beer mugs in their hands. 'Hiiu Folk' was a pleasant exception last year. Follow the news. I'll keep my fingers crossed."
"For me, as a resident of southern Estonia, Hiiumaa is a real exotic place. The annual visit to 'Hiiu Folk' is becoming a tradition. These are pleasant days spent in beautiful nature with beautiful music. I like that this is not a beer festival with a loud bang-bang, but a festival that by its nature fits perfectly into the environment. This is what I like most about 'Hiiu Folk'."
"It is gratifying that the organizers do not separate people from their living space, but offer opportunities to explore the nature of the island. And where do these songs come from if they are not copied from nature?
Anyway, special respect for the participants of the holiday is expressed in the fact that the sensations and beauty will be real, and not warmed up with the help of alcohol.
I wish that the meetings of the singers, their friends and listeners, who carry this sincerity, warmth and authenticity, will continue for many years!"
"There are almost twenty folklore festivals in Estonia. All of them, to one degree or another, are the faces of their organizers. 'Hiiu Folk' features the face of Astrid and her friends. Beautiful, interesting, professional. Church concerts are especially beautiful."
"The villagers, as we are here in an overseas country, for centuries, also respect simple and down-to-earth music. 'Hiiu Folk' gives you the opportunity to enjoy both performing and watching-listening. It gives the opportunity to create and perform soulful music to performers from far and near. I wish the organizers and musicians participating at 'Hiiu Folk' happiness and joy from nice, cool music."
"Harmony with oneself and the surrounding world is becoming an increasingly rare condition. 'Hiiu Folk' is one of the events that create harmony."
"In the first place, I like 'Hiiu Folk', because it takes place on Hiiumaa. Secondly, it is very beautiful to watch Astrid Böning-Nõlvak soar like Snow White among the bearded folk elves, tuning instruments and telling stories between the Kassari junipers. Thirdly, at a real folk music festival we expect fresh air, children of different ages, a peaceful mood, inspiration, enough bohemians, sun and rain, and most importantly – real music! All this can be found at 'Hiiu Folk', and I wish you a long life worthy of this event, and I wish more and more Hiiumaa people on the Kassari swings ground."